WHAT TO EXPECT FROM MORNING WORSHIP AT SAINT MARTIN'S CHAPEL
What do I wear?
Clothes! While our Bishop will always "be in uniform" wearing a collared clergy shirt, members and guests should dress comfortably as appropriate for any other public gathering. Come as you are and leave everything else to Jesus!
What do I say?
Whether by large digital screen or by handheld Service Bulletin, everything in our service is spelled out clearly so that you won't get lost or confused. That includes all the lyrics to our ancient, modern, and contemporary worship music, all the words to the corporate prayers, all references to the Reading, the Psalm, and the Gospel, and even a fill-in-the-blank Sermon Notes handout. As a Spirit-filled local church, we encourage you to fully participate throughout the praise and worship so sing, shout, dance, weep for comfort, and leap for joy!
What about the sacraments (i.e., Holy Baptism and Holy Communion)?
As a Southern Baptist church seeking retrieval of the Great Tradition for the sake of renewal, we celebrate the Lord's Supper every Sunday and offer Believer's Baptism to those who have accepted Christ and desire to become members of our local church (Acts 2:42). Bishop Parker offers a brief teaching called "Why the Lord's Supper Every Sunday?" about our practice of weekly communion which you can watch in the video above or by clicking here.
"The Lord's Supper is a symbolic act of obedience whereby members of the church, through partaking of the bread and the fruit of the vine, memorialize the death of the Redeemer and anticipate His second coming" (Baptist Faith & Message 2000, Article 7).
SAINT MARTIN's CHAPEL
ABOUT US
We are an Evangelical church with Anglican history, Baptist heritage, and Charismatic heart.
Saint Martin's Chapel is the cathedral church of the Full Gospel Baptist Alliance and seat of our Presiding Bishop and Senior Pastor, Dr. Abraham David Parker. Saint Martin's Chapel is also a congregation in friendly cooperation with the California Southern Baptist Convention.
our statement of faith*
We believe the Bible to be the inspired, only infallible, and authoritative Word of God.
We believe that there is one God, eternally existent in three persons: Father, Son and Holy Spirit.
We believe in the deity of our Lord Jesus Christ, in His virgin birth, in His sinless life, in His miracles, in His vicarious and atoning death through His shed blood, in His bodily resurrection, in His ascension to the right hand of the Father, and in His personal return in power and glory.
We believe that for the salvation of lost and sinful people, regeneration by the Holy Spirit is absolutely essential.
We believe in the present ministry of the Holy Spirit by whose indwelling the Christian is enabled to live a godly life.
We believe in the resurrection of both the saved and the lost; they that are saved unto the resurrection of life and they that are lost unto the resurrection of damnation.
We believe in the spiritual unity of believers in our Lord Jesus Christ.
BISHOP A. DAVID PARKER, PhD
SENIOR PASTOR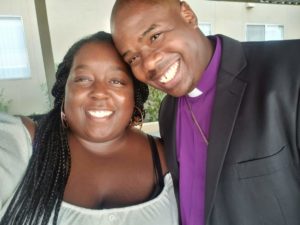 After nearly 20 years of increasingly responsible positions in various denominational and non-denominational churches across the United States and abroad, Dr. Abraham David Parker serves as founder and Senior Pastor for Saint Martin's Chapel of Bakersfield. Having earned a second PhD in Theology Studies after a Doctor of Philosophy in Education from Northcentral University, Bishop Parker also received a Master of Arts in Pastoral Ministry from Grand Canyon University, and ministers in song as The Voice of One.
"You're always welcome at the Lord's Table." – Bishop Parker
The Associate Pastor will provide ministerial support and offer pastoral care under the leadership and direction established by the Senior Pastor.
NOW SEEKING
Associate Pastor
Our church welcomed Pastor Isaiah on staff as Assistant Pastor on June 18, 2023. Pastor Isaiah is a grateful immigrant from South Sudan, faithful husband, and loving father of two boys.
REV. ISAIAH dAU
Assistant Pastor
NOW SEEKING
WORSHIP PASTOR
The Worship Pastor will oversee and produce worship services and special programs, coordinating all encompassing service details based on the theme and overall direction established by the Senior Pastor.
DIOCONATE & LAY staff
co-laborers in christ
Deacon-Elect, Edward Parra
Sis. Melissa Watson, Church Secretary
Sis. Pat Davis, Church Treasurer